Send me reorder reminders and other order related emails.
C
Prescription Verification
Ultraflex II Aspheric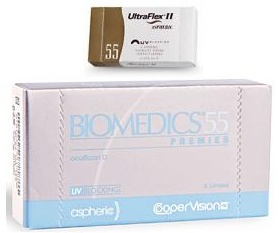 Ultraflex II Aspheric also sold as Biomedics® 55 Premier™. This lens delivers with an aspheric optical design that is optimized to precisely focus light traveling through the contact lens and human eye. The result, enhanced image quality regardless of the amount of lens power correction required.

Ultraflex and Biomedics refer to the same product. We only ship the Biomedics label.
Packaging:
1 box of 6 lenses
Material:
38% H20, 62% polymer (polymacon)
Manufacturer:
Coopervision (www.coopervision.com)
Scottsville, NY