Send me reorder reminders and other order related emails.
C
Prescription Verification
Proclear Compatibles Multifocal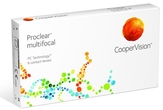 CooperVision Proclear Multifocal and Biocompatibles Proclear Multifocal refer to the same product.

Usually ships in 4 to 5 business days.

D can refer to Distance or Dominant and N can refer to Near or Non-Dominant.
Material:
62% water, 38% omafilcon A polymer
Replacement:
1 month daily wear
Packaging:
1 box of 6 lenses
Availability:
Ships in 3-5 Business Days (estimated)
Manufacturer:
Coopervision (www.coopervision.com)
Scottsville, NY