Send me reorder reminders and other order related emails.
C
Prescription Verification
Extreme H2O 59 Xtra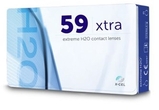 Extreme h20 Extra lenses are made from Benz-G Material for increased comfort all day. Extreme H2O 59% Xtra is a thicker version of the Extreme H2O for "extra durability and handling ease".

Extreme 59% Xtra was formerly known as the Extreme S-Xtra or G-60 S-Xtra. Both names refer to the same product.

Usually ships in 1 to 3 business days.
Material:
59% water, 41% hioxifilcon A polymer
Replacement:
2 week daily wear
Packaging:
1 box of 6 lenses
Manufacturer:
Hydrogel Vision Corporation (www.extreme-h2o.com)
Sarasota, FL