Send me reorder reminders and other order related emails.
C
Prescription Verification
Biomedics 38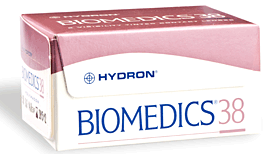 Biomedics 38 contact lenses are manufactured by CooperVision and are branded under many names. Other names include PermaFlex, OccuFlex, ProFlex, MediFlex, UltraFlex, etc. They are all identical in every way.

These lenses will be shipped with the Biomedics 38 label.
Material:
38% water, 62% polymacon polymer
Replacement:
2 wk or 1 mo daily wear
Packaging:
1 box of 6 lenses
Availability:
Limited Stock
Manufacturer:
Coopervision (www.coopervision.com)
Scottsville, NY