Send me reorder reminders and other order related emails.
C
Prescription Verification
SofLens Multi-focal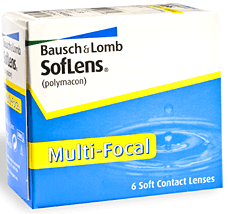 Note: 'Low' Add Power corresponds to add powers in the range of +0.75 to +1.50 and 'High' corresponds to +1.75 to +2.50

Bausch & Lomb SofLens® Multi-Focal contact lenses enable you to see well at all distances. The unique Natra-Sight™ Optics enable easy transitions across near, far, and all points in between, and a patented edge design provides all day comfort. Results from a clinical study show SofLens Multi-Focal contact lenses were patient-preferred 2 to 1 over a leading bifocal contact lens for overall visual quality. Wear on a daily basis and replace every two weeks or one month if suggested by your eye care professional.


Material:
38.6% water, 61.4% polymacon polymer
Replacement:
2 weeks to 1 mo
Packaging:
1 box of 6 lenses
Manufacturer:
Bausch & Lomb Inc (www.bauschandlomb.com)
Rochester, NY