Send me reorder reminders and other order related emails.
C
Prescription Verification
Soflens Daily Disposable For Astigmatism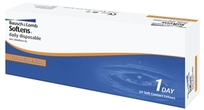 SofLens daily disposable Toric for Astigmatism (30 PACK) lenses provide value for wearers who want clear vision and comfortable wear throughout the day. It combines clear vision, exceptional comfort and astigmatism correction with the ease and eye health benefits of a daily disposable lens.

"SofLens daily disposable for Astigmatism (toric) is the first daily disposable for astigmatism designed with High Definition optics to help provide exceptional visual quality, especially in low light conditions. In addition, the lens design leverages added features to help keep the lens exceptionally stable during wear."
Material:
59% H20, 41% polymer (hilafilcon B)
Manufacturer:
Bausch & Lomb Inc (www.bauschandlomb.com)
Rochester, NY