Send me reorder reminders and other order related emails.
C
Prescription Verification
Purevision Toric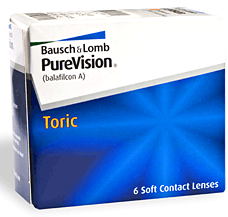 PureVision Toric contact lenses are a new monthly disposable soft contact lens that can be worn continuously for up to 30 days and 30 nights.

PureVision® contact lenses deliver the ultimate technology in material and optical design to provide you with exceptional vision, health and comfort.
Enhanced wettability and deposit resistance without inhibiting oxygen or fluid transport.
High oxygen transmissibility for healthy, white eyes.
Reduced risk of hypoxic stress to help maintain excellent ocular health.
Replacement:
1 month extended wear
Material:
36% water, 64% balafilcon A polymer
Packaging:
1 box of 6 lenses
Manufacturer:
Bausch & Lomb Inc (www.bauschandlomb.com)
Rochester, NY