Send me reorder reminders and other order related emails.
C
Prescription Verification
Purevision 2 For Astigmatism HD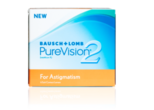 PureVision 2 For Astigmatism HD contact lenses are a new monthly disposable soft contact lens designed specifically for those with an astigmatism.

PureVision® contact lenses deliver the ultimate technology in material and optical design to provide you with exceptional vision, health and comfort.
Material:
36% H20, 64% balafilcon A
Packaging:
1 box of 6 lenses
Replacement:
1 month replacement
Manufacturer:
Bausch & Lomb Inc (www.bauschandlomb.com)
Rochester, NY