Send me reorder reminders and other order related emails.
C
Prescription Verification
Proclear Compatibles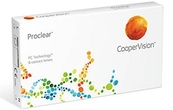 Proclear Compatibles lenses are manufactured by CooperVision and are a great choice for people who suffer from dry eye Syndrome. The lenses are more commonly known as just "Proclear". The word "Compatibles" does not imply that it is a generic.

"Proclear", "CooperVision Proclear", "Proclear Compatibles", "Biocompatibles Proclear Compatibles" and "Proclear Sphere" all refer to exactly the same product.
Material:
62% water, 38% omafilcon A polymer
Replacement:
1 month daily wear
Packaging:
1 box of 6 lenses
Availability:
IN STOCK - Ships Fast!
Manufacturer:
Coopervision (www.coopervision.com)
Scottsville, NY