Send me reorder reminders and other order related emails.
C
Prescription Verification
Optima FW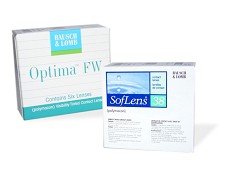 This lens has been renamed to Soflens 38. Optima FW / SofLens®38 contact lenses are a soft lens with an ultra-thin design and a time-tested lens material that provides crisp, clear vision, comfort, and deposit resistance.
Material:
38.6% water, 61.4% polymacon polymer
Replacement:
2 wk or 1 mo daily wear
Packaging:
1 box of 6 lenses
Manufacturer:
Bausch & Lomb Inc (www.bauschandlomb.com)
Rochester, NY