Send me reorder reminders and other order related emails.
C
Prescription Verification
Miru 1 Day 30 Pack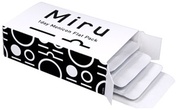 Miru contact lenses by Menicon are an ultra convenient daily disposable lens. Miru, from the Japanese word for "seeing," features a revolutionary flat pack design. Slowly peel the foil sheet away from the thin package and find that the outer surface of the lens faces up. Miru lenses bond naturally with tears because their molecular structure closely mimics the structure of oligosaccharides found in the mucous layer of the tear film.
Material:
hioxifilcon A
Replacement:
1 day replacement
Packaging:
1 box of 30 lenses
Manufacturer: