Send me reorder reminders and other order related emails.
C
Prescription Verification
FreshLook Handling Tint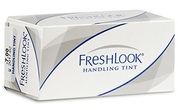 Freshlook Handling tint are also known as Freshlook Lite Tint, Freshlook Visitint, Freshlook Clear, and Freshlook VT. If you have a prescription for a Freshlook colored contact lens, you can order the Freshlook Handling Tint as a non-colored alternative.

Freshlook Handling Tint contact lenses are not designed to change the eye color. The tint is used to facilitate locating the lenses in the solution. These lenses also contain an inside out indicator.

Freshlook lenses are generally prescribed for 2 week wear.
Material:
55.0% water, 45.0% phemfilcon A polymer
Replacement:
2 wk or 1 mo daily wear
Packaging:
1 box of 6 lenses
Manufacturer:
Ciba Vision Corporation (www.cibavision.com)
Duluth, GA