Send me reorder reminders and other order related emails.
C
Prescription Verification
Definition AC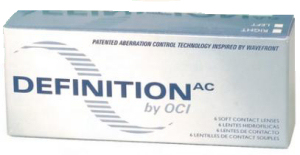 Definition AC contact lenses provide improved visual acuity, especially in moderate to high prescriptions through its aspheric design.

Special ordered: Usually ships in 5 to 7 business days. Please note that shipping for this product will take additional time.

There are no returns or exchanges allowed with this product.
Material:
55 % H20, 45% Methafilcon A
Availability:
Usually ships in 3-6 days.
Manufacturer: