Send me reorder reminders and other order related emails.
C
Prescription Verification
Clariti 1 Day Toric 30 Pack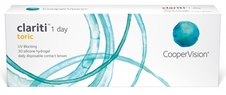 Clariti 1 Day Toric 30 pack contact lenses are a one-day disposable contact lens manufactured by Sauflon. Clarity 1 Day Toric lenses use a silicone hydrogel material and AquaGen technology for all day comfort.
Material:
Somofilcon A
Replacement:
1 day replacement
Packaging:
1 box of 30 lenses
Availability:
Ships in 5 to 7 business days.
Manufacturer:
Coopervision (www.coopervision.com)
Scottsville, NY