Send me reorder reminders and other order related emails.
C
Prescription Verification
Biomedics 55 Premier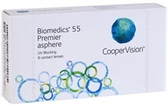 Biomedics® 55 Premier™ delivers with an aspheric optical design that is optimized to precisely focus light traveling through the contact lens and human eye. The result, enhanced image quality regardless of the amount of lens power correction required.
Material:
55% water, 45% ocufilcon D polymer
Replacement:
2 wk or 1 mo daily wear
Packaging:
1 box of 6 lenses
Manufacturer:
Coopervision (www.coopervision.com)
Scottsville, NY