Send me reorder reminders and other order related emails.
C
Prescription Verification
Biofinity XR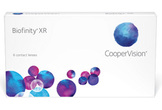 CooperVision Biofinity XR 6-pack contact lenses are the extended range, custom ordered extension to the regular Biofinity brand. Biofinity XR are made using Coopervision's patented Aquaform™ technology. The material in Biofinity is very breathable to help keep your eyes comfortable all day long. The XR version of the Biofinity consists of a power range between +15.00 and -20.00.

Biofinity XR is also sold under different names such as AquaClear and SiH 48.
Material:
Comfilcon A
Replacement:
Monthly
Packaging:
1 box of 6 lenses
Availability:
Made to order. Ships in 8-12 business days.
Manufacturer:
Coopervision (www.coopervision.com)
Scottsville, NY