Send me reorder reminders and other order related emails.
C
Prescription Verification
Biofinity Multifocal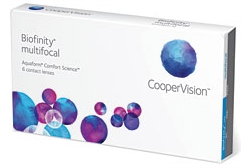 Biofinity Multifocal monthly contact lenses by CooperVision are sold in a 6-pack box. See clear and comfortably near, far and in between with the Biofinity Multifocal lens which combines CooperVision's Balanced Progressive Technology and silicone hydrogel lens material.

All standard parameters in stock. Non-stock prescriptions ship within 3 to 5 business days.

D can refer to Distance or Dominant and N can refer to Near or Non-Dominant.
Material:
Comfilcon A 52%, H2O 48% (SiH48)
Packaging:
1 box of 6 lenses
Availability:
Ships in 3-5 Business Days (estimated)
Manufacturer:
Coopervision (www.coopervision.com)
Scottsville, NY