Send me reorder reminders and other order related emails.
C
Prescription Verification
Biofinity Energys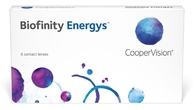 Biofinity Energys are made by CooperVision. Biofinity Energys are lenses designed specifically for the digital era and everyday living. Biofinity Energys use Digital Zone Optics design which helps eye fatigue caused by focusing on digital devices. Wearers are saying that their eyes feel less tired after wearing Biofinity Energys.

The discounted Biofinity Energys we sell are the exact same as you would receive from your optometrist or local optical store. The only difference is our more affordable price.


Material:
Comfilcon A
Packaging:
1 box of 6 lenses
Manufacturer:
Coopervision (www.coopervision.com)
Scottsville, NY