Send me reorder reminders and other order related emails.
C
Prescription Verification
Biofinity (Same as AquaClear)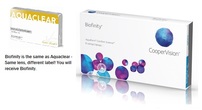 Biofinity contact lenses are sold in a 6-pack box. AquaClear contact lenses are identical to Biofinity contact lenses. AquaClear contact lenses are manufactured by CooperVision. AquaClear lenses are actually CooperVision BIOFINITY contact lenses, re-branded (or privately labeled) by Vision Source. Don't be fooled: AquaClear and Biofinity are the exact same lens in every aspect relevant to your prescription. Both AquaClear and Biofinity contact lenses are made using patented Aquaform™ technology. We are not authorized to carry the AquaClear label, therefore we only ship the Biofinity label.

Biofinity lenses are also sold under the names SIH-48, Sofmed Breathables XW and Aquatech Plus Premium.
Material:
Comfilcon A 52%, H2O 48% (SiH48)
Packaging:
1 box of 6 lenses
Replacement:
1 month replacement
Alternate Names:
Biofinity, SIH-48, Sofmed Breathables XW and Aquatech Plus Premium
Manufacturer:
Coopervision (www.coopervision.com)
Scottsville, NY