Send me reorder reminders and other order related emails.
C
Prescription Verification
Acuvue Oasys 12 Pack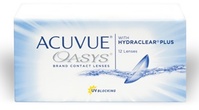 The Acuvue Oasys lens utilizes Hydraclear Plus technology to help eyes stay moist and comfortable. Oasys lenses offer exceptional long lasting comfort for people who suffer from dry eyes.

The revolutionary ACUVUE® OASYS™ Brand Contact Lenses with HYDRACLEAR™ Plus features senofilcon A, a new generation of silicone hydrogel, a new lens material that offers high oxygen transmissibility and includes a higher volume of moisture-rich wetting agents.

This lens is so smooth, eyelids effortlessly glide right over it. ACUVUE® OASYS™ Brand Contact Lenses carry a 100% satisfaction guarantee*.

The new 12-pack quantity will replace the 6-pack quantity, which is being phased out beginning July 1st, 2014.
Availability:
IN STOCK - Ships Fast!
Material:
38% water, 62% senofilcon A polymer
Replacement:
1-2 week daily wear
Packaging:
1 box of 12 lenses
Manufacturer:
Johnson and Johnson Vision Care (www.acuvue.com)
Jacksonville, FL