Send me reorder reminders and other order related emails.
C
Prescription Verification
Avaira Vitality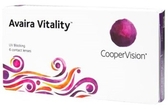 New Avaira Vitality contact lenses by CooperVision are a healthier lens-wearing experience with enhanced UV protection. Avaira Vitality is made using silicone hydrogel material helping your eyes breathe better. Avaira Vitality contacts allow for longer wear times so you can enjoy continuous superior comfort throughout your day.

Avaira Vitality is a 2-week replacement disposable lens with enhanced water content for natural wettability, Class 1 UV protection (maximum available in a contact lens). The Avaira Vitality we sell at a discount is the exact same as you would receive from your eye doctor. Each pack of Avaira Vitality contains 6 sterile lenses in blister packaging.
Material:
fanfilcon A
Replacement:
2 week daily wear
Packaging:
1 box of 6 lenses
Manufacturer:
Coopervision (www.coopervision.com)
Scottsville, NY