Send me reorder reminders and other order related emails.
C
Prescription Verification
Avaira Toric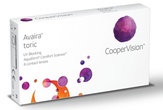 Avaira Toric contact lenses are manufactured by CooperVision. Each pack contains 6 Avaira Toric lenses.

CooperVision had placed this product on hold until June 2012. The product is now available for purchase.

Normally ships within 5 business days.
Material:
54% enfilcon A, 46% H2O
Packaging:
1 box of 6 lenses
Availability:
Certain prescriptions delayed beyond 10 days (estimated)
Manufacturer:
Coopervision (www.coopervision.com)
Scottsville, NY