Send me reorder reminders and other order related emails.
C
Prescription Verification
Avaira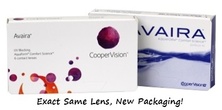 New Avaira contact lenses from CooperVision are made from a unique material that attracts and binds water within the lens itself, keeping those lenses moist and comfortable without the need for additional lens surface treatments or "wetting agents" like other silicone hydrogel contacts.

Avaira is also sold under different names such as AquaClear 100, Hydroflex 100 and Aquatech Plus.
Packaging:
1 box of 6 lenses
Replacement:
1-2 week daily wear
Material:
Enfilcon A, 46% water
Manufacturer:
Coopervision (www.coopervision.com)
Scottsville, NY