Send me reorder reminders and other order related emails.
C
Prescription Verification
SofLens Toric for Astigmatism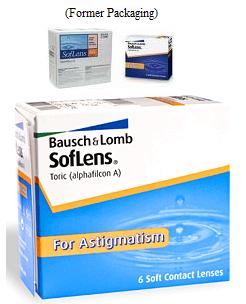 SofLens 66 Toric lenses by B&L are easy-to-fit lenses that provide superior comfort and clear vision all day. The 66 refers to the water content in the lens (66% water). Soflens Toric contact lenses are an excellent choice for astigmatic persons. These lenses are normally worn for two weeks and then disposed.

SofLens Toric for Astigmatism is also referred to as SofLens Toric and Soflens 66 Toric.

Note: -2.75 CYL lenses can take 4-6 business days to ship.

Material:
66% water, 34% alphafilcon A polymer
Replacement:
2 wk to 1 mo daily wear
Packaging:
1 box of 6 lenses
Manufacturer:
Bausch & Lomb Inc (www.bauschandlomb.com)
Rochester, NY