Send me reorder reminders and other order related emails.
C
Prescription Verification
Provision Premium Toric (Vertex Toric)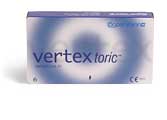 Vertex Toric is manufactured by CooperVision. This lens is also sold by doctor's offices under a variety of different private labels including Onevue 55 Toric, 2CLEAR Toric and Provision Premium. We ship the Vertex Toric label only.

All standard parameters in stock. Non-stock parameters usually ship in 3 to 5 business days.
Material:
55% water, 45% methafilcon A polymer
Manufacturer:
Coopervision (www.coopervision.com)
Scottsville, NY