Send me reorder reminders and other order related emails.
C
Prescription Verification
Special Effects Theatrical Lenses (Rx)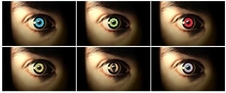 Special effect contact lenses are perfect for Halloween. These Halloween contact lenses are FDA approved. Ships in 5 to 10 business days.. Final sale. No refunds or exchanges.

Proof of a valid contact lens fitting is required by law before we can ship your lenses. For example, your contact lens prescription record should indicate "special effects" or "costume" or "Halloween" or "Clearcolor Phantom" or similar lenses on it. Simply ask your doctor to approve cosmetic lenses on your prescription record- this is commonly done around Halloween time for existing contact lens users.

Our Special Effects Theatrical Lenses are manufactured by ClearlabUS. Clearlab's special design provides unparalleled user comfort, greater centration and premium optics. Worn as directed, Clearlab lenses provide a safe and exciting cosmetic lens experience. These lenses are manufactured using Special Invert Padding Technology (SIPT)which prints color into the lens, not on top, keeping your eyes safe from irritation.
Material:
62% polymacon, 38% water content
Replacement:
Up to 3 month wear
Packaging:
1 single lens per vial
Availability:
Ships in 5 to 10 days
Manufacturer:
ClearlabUS Eyedia Clearcolor Phantom
Manufacturer: